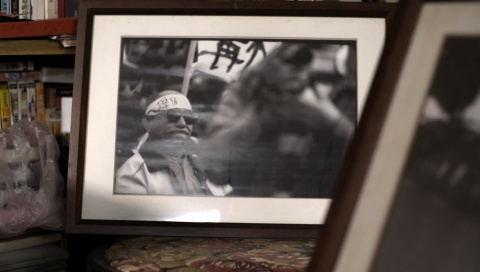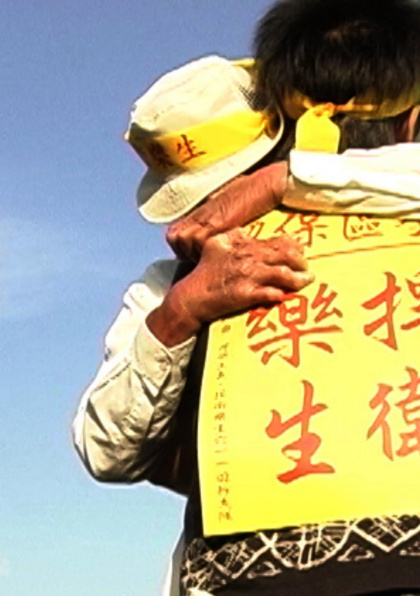 Synopsis
A group of Taiwanese leprosy patients have been segregated for their entire lives on the urban fringe of Taipei, Taiwan. These aged patients have built their lives in this island-like leper colony. 20 years ago the Taiwanese government forced open the gates of their community and began to destroy their land for economic development. Facing relocation and the erasure of their history by authorities, they have been engaged in a struggle to preserve their way of life and their very existence up till now. These patients have been deeply rooted within the island; so strong is it that they have become one with the island themselves. When the winds blow, no one catches the wind, but the trees can, the island can.
Director Statement
20 years ago, I was a young filmmaker when I first visited this land of disease. Immediately, I noticed the y-shape entrance separated between the healthy and the sick. As I wandered up the road of the sick, I wondered how life could be changed here. Here were green coconut trees, quaint red block houses, and flower gardens that abounded alongside the sidewalks – the time seemed standing still. Aged leprosy patients moved about this town as though unencumbered by their disease. Their powerful spirits covered a sick appearance: discolored skin, flat noses, missing eyelashes, and the very loss of limbs and other features. Their heart-touching words, though, immediately bridged any gap there was between us. In every political protest, they stated their requests as if their souls were awakening, and they fought fearlessly against the police as if life. To them, segregation had never confined nor defined them. I was deeply touched seeing these patients acting in such a vigorous and powerful way. I decided then that I would spend a year of my youth with them, documenting their lives. That documentary film was shown at film festivals years ago.
Later, I moved on. I thought I had wrapped up our relationship. However, years later, they are still oppressed by the authorities and insist on fighting. I never fell out of touch with them–the echoes of their suffering were never too far from my thoughts. Any attempts on my part to ignore news pertaining to their cause were futile: I didn't want their fight and stories to be forgotten. So, I decided to pick up my camera and start documenting another chapter in this story. I was heartbroken seeing what was missing and what has changed over time. A noteworthy hill with a y-shape entrance had been replaced unfinished by MRT rails and the chirping of cicadas was replaced with the sounds of construction.
The old, red brick houses had become a heap of ruins as patients died off and left their rooms untended. However, there were things that had not changed over time: residents of the asylum are still battling with their flesh and blood with the same spirit; with the help of the press, they press their requests with the same dignity, while in front of judges, they announce their claims with the same wisdom. They have never considered giving up. 20 years of the long anti-relocation struggle, it is not easy for them. I remember one breakthrough moment of my shooting…
These years, Ying suffers from mental instability because she sees lots of her loved elder patients passing away. The consistent noise of construction and lack of care from the hospital makes her situation tougher. She became even more powerless. One day, the dean of the sanatorium came to her home and forced her to relocate. They took her to the corner and emotionally attacked her in order to force her to move. She cried out and almost broke down. I ran after her, one hand holding the camera and the other hand holding her.I told her, look at me, "Ying, do you know why I stayed here for 20 years? Because I don't want to see you suffer any sort of oppression by any type of authorities". She looks at me and turns to the manager. She bravely said "my cats and dogs are like my own kids, I am not going to leave them". At that moment, I see these aged patients, their tenacious vitality is extremely strong and straight. I realize it's their persistence in life and love that attracts me and inspires me- I have been sick and accompany my loved one being sick as well. While facing my own struggle, there are times I want to give up, but I realize things that can't let go make me live. Their story teaches me to search deeply and to never give up even at the toughest moment. For Ying are her cats and dogs. For Wen is his freedom to live. For other patients is the friendship with others or self-accomplishment through the movement. They are all deep connections growing within the land. So do I. 20 years, half of my entire life, I grew to be a filmmaker here, I was bound by these people and the land.
I believe, through their story, I have found things more profound and universal beyond a political movement or a tragedy of leprosy disease. I hope eventually build a bridge to the sick and the healthy. One day, leprosy disease will be long gone, patients will die off, no later generation will remember their story or the land will disappear eventually. But the film will show once we are alive here, the living will keep telling the story for the dead.
Festivals & Awards
2022 Docs By the Sea, Editing Lab
2021 ASIADOC - Creative Documentary Storytelling Workshop