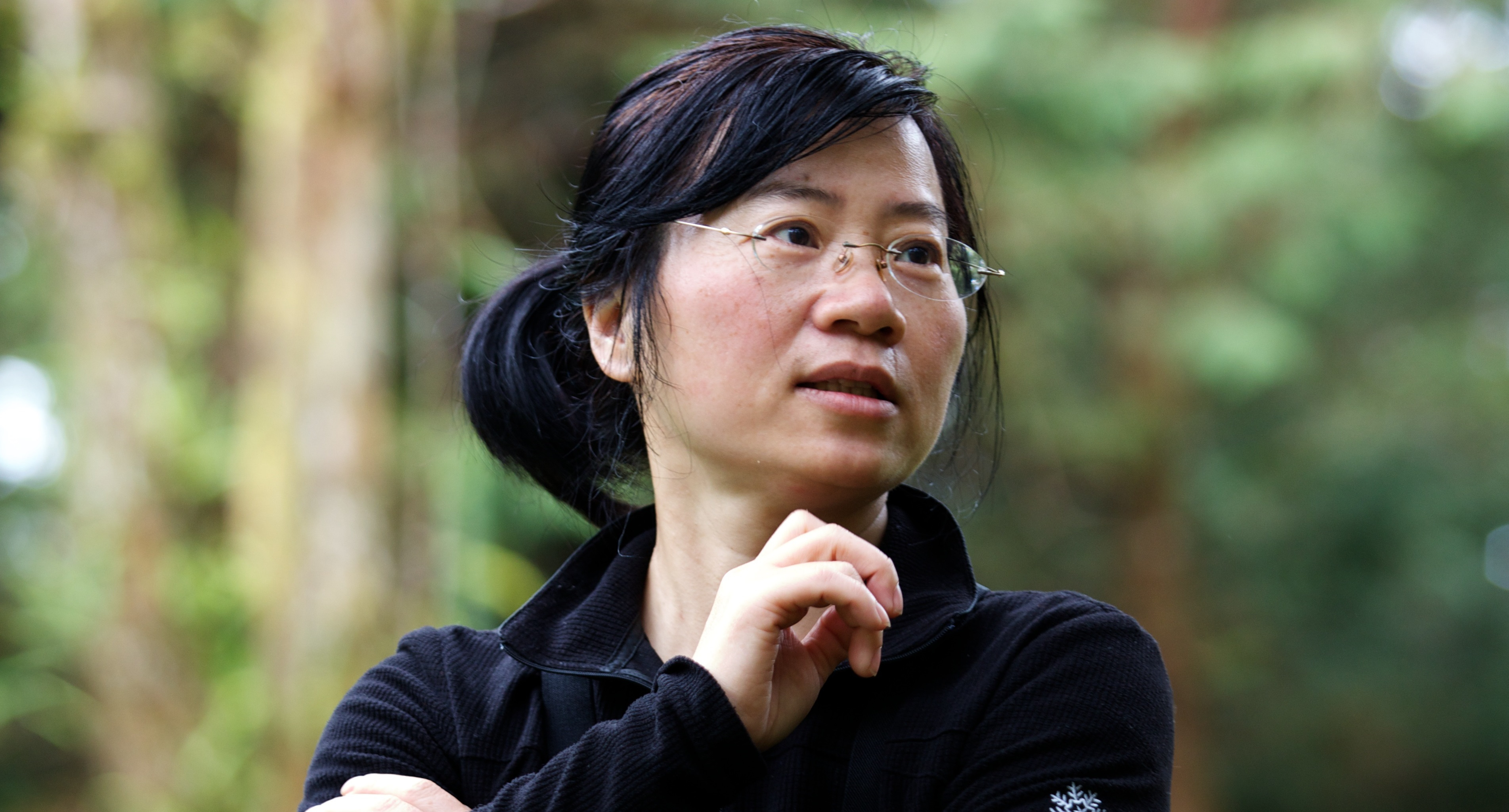 Interviewed and written by TSAI Yu-chen
"I only have one life. This is a film I have to make. Six years is surely a long time, but I think the result is worthy of spending six years."
After finishing her second feature documentary, Chronicle of the Sea, Nan-Fang-Ao, LEE Hsiang-hsiu had the idea of filming the mountains.
In 2010, she visited HWANG Mei-hsiu, head of the Institute of Wildlife Conservation, National Pingtung University of Science and Technology, who is also known by many as "Mother Black Bear". LEE expressed her intention to make a documentary film about HWANG and confessed that she had no prior experience in mountain climbing and little knowledge of the mountains. Instead of declining LEE's invitation, HWANG said she would be glad to see it happen.
Two days after they met for the first time, the Institute of Wildlife Conservation held an orientation camp for freshmen, providing education and training on fieldwork health and safety. Without hesitation, LEE signed herself up and bought all the needed gear for mountain climbing in two days. She then joined the students in the mountain climbing and fieldwork training. "I decided on filming this subject around June and July, met Professor HWANG in early August, joined the training camp two days later, and went into the mountains in October."
This is all because the bears are in Dafen.
Located on the east side of the Central Mountain Range, Dafen is the central part of Yushan National Park. According to systematic study on Formosan black bears, the Dafen area is home to many Formosan black bears. After eight years of study, the Yushan Headquarters and Professor HWANG's team confirmed, using DNA identification technology, that the number of Formosan black bears in Dafen was no fewer than 77 in 2015[1]. The only route leading to Dafen is the Batongguan Traversing Trail constructed during the Japanese colonial era, and it takes three days to reach it on foot. All of Dafen is within the restricted mountain area; one must be equipped with all necessary climbing gear and sufficient food, and apply for a permit at the Yushan Headquarters before entering.
Hence, in less than half a year, LEE had to transform herself from a mountain climbing novice who couldn't even run half a lap to a backpacker in the mountains. She made it through her first trip to Dafen relying solely on her willpower: "When climbing a mountain, you can only move forward. If you back down, you are left with no choice but to go home and stop the filming."
However, when facing the mountains, one may lack not only the physicality, but also the knowledge. Although LEE's documentaries focus mainly on people, she cannot be deficient in the background knowledge. "I have a habit of reading academic papers when I make documentaries. I didn't find many references for my first two films, but it was because of this deficiency that I gained a better understanding of the significance of documentary films." Between 1997 and 2000, Professor HWANG made her first trips to Dafen and conducted field studies on Formosan black bears. Her notes written in this period were initially published under the title Notes on Black Bears and later republished and retitled as In Search of Bears. These two books as well as HWANG and her students' papers are all important source of LEE's research. The filming officially started in 2011, and in the following six years, she made almost thirty trips in and out of Dafen.
After a year-long field research and preparation, LEE began filming people. In October 2011 and February 2012, HWANG and her team conducted surveys on ring-cupped oaks, so LEE followed them twice. In January 2013, LEE asked the two main characters, HWANG and indigenous Bunun mountain ranger LIN Yuan-yuan, to accompany her on another trip into the mountains solely for the purpose of filming. In these few times, a large production team went into the mountains, including two people in the sound team, four in the camera team, a production assistant, and four or five porters. "We would consider ourselves lucky if we could film two or three locations in a day. It takes half an hour just to take the Arri Alexa camera out." For the rest of the time, LEE awaited the bears at specific spots. "I couldn't possibly rely only on the bear footage Professor HWANG gave me. This film definitely shows my own point of view on animals. But I wasn't sure, and nobody thought or expected that I could capture bears on my camera. I gave myself a lot of pressure. When I decided to film bears in 2011, I bought 13 automatic cameras."
At the end of 2011, LEE spent 46 days in Dafen waiting to capture bears on film. In winter 2012, she made three trips in and out of Dafen, spending a total of over 80 days there. She went filming there again for a month in late 2013 and spent every winter break in Dafen until 2016. Around 80 percent of the animals appearing in the film are shot by LEE herself. "It's easier to capture great animal shots when I'm on my own, including that sambar deer that kept staring at me, or the other one flapping its ears. There is no other trick but to wait long enough." Mysteriously, she often spent a few fruitless days before an animal showed up at dusk just as she was about to wrap up—as if it was a gift from the mountain god. "That's why I often asked the editor to include more animal shots. After all, we waited a long time for every animal in the film." At every mention of animals, LEE would sparkle her eyes and do vivid imitations of them. She even added: "Actually, Disney's animations depicts animals quite realistically."
In 2014, LEE began the editing process while still filming, but she kept feeling something was missing. One day when she was watching TV with her mother, they switched to Discovery Channel and she finally realised the problem: she didn't film the surrounding environment at all. "But these documentaries all open with the environment." As a consequence, she went into the mountains again at the turn of 2014/2015. "That trip lasted for ten days. It was the most scenic season in Dafen, with leaves falling and colour of the forests changing. But I knew this trip was not enough. I returned again during my winter break. I spent the last year filming the environment. The sunlight, rain, wind, and fog—I need to capture these. If you open the map of Dafen, I can tell you what I captured at nearly every location."
The mountain range is vast. She spent so much time there doing supplementary filming that it felt like the end was nowhere near. In late March/early April of 2016, LEE got in touch with a group of aerial cinematographers. With their stunning shots over the Lakulaku River, the filming finally ended.
In May 2015, LEE heard the news that LIN Yuan-yuan was suffering from terminal cancer. She realised that she had to complete the post-production soon, so she sought help from renowned editor CHEN Hsiao-tung, who was awarded Best Film Editing at the 2011 Taipei Golden Horse Awards for The Man Behind the Book.
During the last year, she was under constant pressure to finish the film in time. "One day before LIN's passing, I sensed something wrong when I heard that he had returned home for palliative care. I rushed to bid my farewell to him with the film still in the editing stage. Although the film was released on cinema by the end of 2016, it was still too late for LIN to see himself on the big screen.
Besides being a documentary film director, LEE also teaches in the Department of Radio, Television and Film at Shih Hsin University, which offered her significant financial support during the six years of filmmaking. However, it also made she spend her time between teaching and filmmaking. She always spent her winter and summer breaks up in the mountains. With her frequent and lengthy stays, she was jokingly dubbed as the master of Dafen accommodation. The mountains and forests all possess spiritual qualities, wouldn't one feel lonesome and afraid when staying in the mountains alone?
"Up in the mountains, I was able to find peace of mind. Life was simple there, I only thought about how to do the filming and how to capture bears or other animals on film. In the evening, I transcribed my footage."
However, in retrospect, this ability to endure loneliness may be attributed to the time she spent to complete the editing of The Lost Kingdom in the US all by herself.
LEE obtained a master's degree in Film and Media Arts from Temple University, where she took many courses on documentary filmmaking. It was also then that she conceived the idea of making a film about Taiwanese opera troupe Gong-Le-She, which eventually became her thesis film. Yet, as she finished the filming, she was approaching the time limit for her degree completion. LEE then submitted her work in the form of video art to gain her degree and remained in the US after graduation, working on the editing and making film prints. Back then she still worked with linear editing, slowly piecing The Lost Kingdom together frame by frame, like making a handicraft.
"Why did I have the courage to stay and live in Dafen alone? Maybe I got it from the time when I was working on The Lost Kingdom. For all my classmates had graduated, all of a sudden I found myself on my own in the US that year. Everyday I went to 'work' at Temple University. The editing room was in a basement. I would buy some food in Chinatown, got in there around two or three in the afternoon, and began editing in the evening until two or three in the morning. When I got tired, I slept on the couch in the seminar room. In the morning, when I heard the janitor turn on the radio and started cleaning leisurely, I knew it was time to get up, and then I would take a bus home. On Thanksgiving or Christmas, the dormitory would close. In that case, I'd buy three days worth of food, got in there a day before the holiday and out after it ended."
As a film director, LEE spent six years on The Lost Kingdom, three years on Chronicle of the Sea, Nan-Fang-Ao , and six years on Black Bear Forest . Time seems to be an essential cost to her filmmaking. Why is that the case?
"When I start making a film, I see it as the most important thing in my life. I seemed to know that as long as I keep working on it I could gain something, so I bet my time and effort on it." Looking back on the six-year production of The Lost Kingdom, she spent the first year and a few months doing field research and got some interesting shots in the second year. All her friends then told her not to push herself too hard and that it was time to stop. But in the third year, more and more materials appeared: she found the rare audition footage of the troupe, and the lead actress, who had been reluctant to be interviewed in the first year, finally grant her permission in the second year.
"I only have one life. This is a film I have to make. Six years is surely a long time, but I think the result is worthy of spending six years. It was worthwhile."
It was worthwhile indeed. The film received wide acclaim soon after its theatrical release. LEE often found herself on the verge of tears when reading audience feedback. "Perhaps the reason why this film was well received was because what I filmed was so unfamiliar to most people. It is a part of Taiwan that people don't know, a part that is not so easy to physically reach, and we also lack this kind of information in our education. I think the meaning of this film lies in the documentation of mountains, forests, as well as ecological study, which most Taiwanese have little knowledge of." HWANG's PhD advisor Dave GARSHELIS said in an interview in the film: "When a person goes to the field, starts collecting the data, then they become conservationist automatically, just being in that situation."
As we watch the film, hearing the footsteps of those in the forest, we also seem to catch on us the dense mist in the mountains and the scent of every tree we pass by. The gaze of every creature is powerful enough to pierce through the screen. Perhaps the most enigmatic part of Black Bear Forest lies in the fact that LEE spent six years in bringing the mountain to us so we only need to spend two hours in the cinema to experience it all.
1. Information source: United Daily News article (28/02/2015) reproduced on the Taiwan Black Bear Conservation Association website
http://www.taiwanbear.org.tw/news?view=article&type=news&tag=1&id=140
Originally edited by Ruby HSIEH
The original article was published in Taiwan Documentary E-paper
Translated by TAN Chen-chih