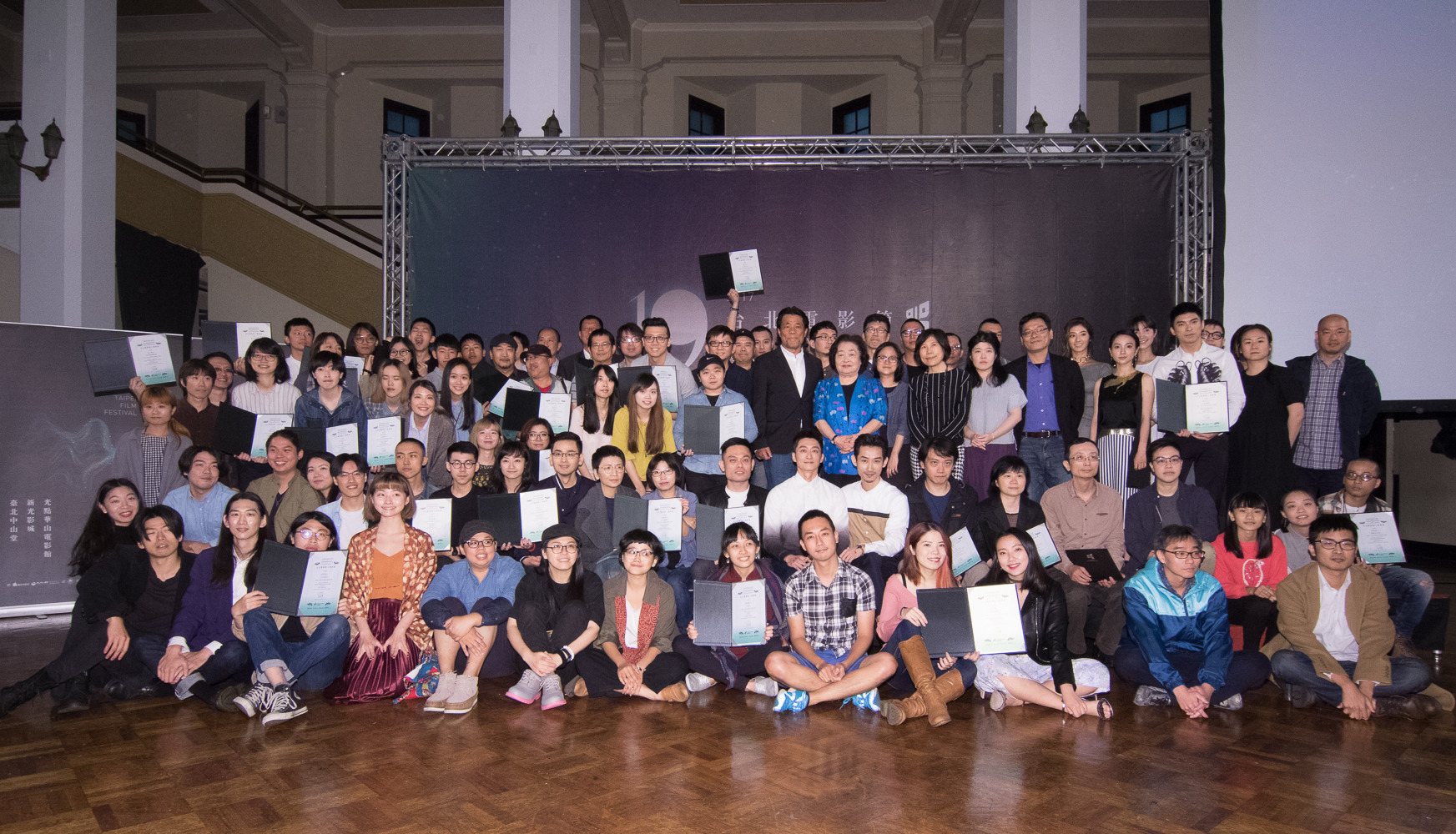 (May 17, 2017)
Taipei Film Festival announced the nominees for the 2017 Taipei Film Awards on May 16. At the press conference yesterday, Lee Ping-Bing, the chairperson of Taipei Film Festival presented the certificates of nomination to all 40 films.
There was a total of 293 submissions this year, with competition for the most-anticipated Feature film category especially intense. Three of the Feature nominees have already gained exposure at international film festivals—CHU Hsien-che's White Ant won the FIPRESCI Award at the Busan International Film Festival, Midi Z's The Road to Mandalay captured the Fedeora Award for Best Film at the Venice International Film Festival, and CHEN Hung-i's The Last Painting competed for the Big Screen Award at the International Film Festival Rotterdam. Also in contention are the new director works The Great Buddha+ and Missing Johnny, both recently named finalists of the International New Talent Competition. Box office and critical successes The Village of No Return by CHEN Yu-hsun and Who Killed Cock Robin by CHENG Wei-hao are the nominees that represent Taiwan's best commercial films of the year; CHAN Ching-lin, who previously won Best Director at the Taipei Film Awards for the short film, A Breath from the Bottom, has been nominated again for his first feature-length TV movie, The River That All Flow By. Rounding off the Feature film category are Forêt Debussy, which features exceptional performances from Gwei Lun-mei and Lu Yi-ching, and WANG Min-tai's Cloudy, which will be making its world premiere at the festival.
The subjects covered by the nominees for the Taipei Film Awards' typically dazzling Documentary film category are highly diverse this year, reflecting the broad perspectives of Taiwanese filmmakers. The 10 nominees include this year's most eye-catching documentary, Small Talk , winner of the Teddy Award in the Best Documentary category at the Berlin International Film Festival; Wansei Painter – Tetsuomi Tateishi , which depicts Taiwanese history before and after World War II through the eyes of a Wansei painter; MANFEI, which will be making its world premiere at the Taipei Film Festival and is directed by CHEN Hyin-gen, who took the Taipei Film Awards by storm in 2015 with A Life That Sings; Black Bear Forest , which focused on the Formosan black bear through the revolutionary friendship between a female zoologist and an indigenous Bunun hunter; Looking For?, a contemporary tale about gay men in the world of dating apps; Unfinished Progress, a record of the political movements discussing the different ideas people have toward a political future; Condemned Practice Mode , a discussion of human nature and faith through the examination of a miscarriage of justice; The Mother and Her Son, a look into serious illness and disadvantaged families; Ripples Apart, which follows the Olympic dream of Taiwanese windsurfer Chang Hao and his Australian coach; and MATA – the Island's Gaze, which explores the impact of images on Formosa through reconstructing the time and space of a photograph taken of an indigenous hunter taken by a Scottish photographer in Taiwan back in 1871.
This year's lineup of Short Film nominees is also formidable and includes 2016 Cannes Film Festival International Critics' Week selection Arnie, a magical fable by director Rina B. TSOU about a Filipino fisherman; Toward the Sun, a Cinéfondation Selection from the 2017 Cannes Film Festival; Babes' Not Alone, an International Film Festival Rotterdam selection about a young woman's frustrations when she is forced to look after a baby that's not her own; student work Wild Tides, a raw and low-key depiction of rural Taiwanese youth at a loss from having nothing to do; Spring Breeze Young Men, a black-and-white portrayal of aimless Taipei university students who lead spiritless lives due to bleak futures; Dxgal, the short film debut of documentary filmmaker SU Hung-en that looks into the contrasting values different generations of indigenous people place on the land; Love After Time, the new film from Winds of September screenwriter TSAI Tsung-han about a mutant love story in the aftermath of a nuclear disaster; Our Base, in which two elementary school girls construct a secret base in a park but are hiding an even bigger secret; Purple Days, which explores the emotions of a hairdresser and Jazz band musician living as foreigners in New York and Japan; and True Emotion Behind the Wall, the latest project of Thanatos, Drunk director CHANG Tso-chi, which illustrates the lament and nostalgia of the incarcerated.
The nominees in the Animation category are also very competitive. They include Back, a surreal tale about the relationship between a grandfather and grandson, directed by multiple nominee and award-winner WU De-chuen; and Stories About Him, in which director YANG Yung-shen uses paper cutout and other animation techniques to piece together his grandfather's appearance and memories. Both films will be making their world premiere at the Taipei Film Festival. Other nominated works include A Shiung and Price Siddhartha, a Buddhist tale directed by former Golden Horse Award Best Animation Feature winner KUNG Gen-ho; Bart, a unique and exquisite puppet animation featuring sculpted dough figurines; And Then, a black-and-white animation depicting a rigid and standardized modern urban society; White Tunnel, which portrays the treacherous atmosphere inside a cab as estranged siblings visit their mother's grave together; Long Island, which revolves around the contradictions and struggles of an elderly lighthouse keeper who yearns for company; 20, a look into humanity in simple yet impactful lines; Fundamental, a well-executed journey exploring the values of youth; and WALL, a story about deciding to make a change rather than forever remaining in hiding, as told through the eyes of a street rat.
The Taipei Film Awards showcase the four categories of Feature, Documentary, Short Film, and Animation, with each category selecting up to 10 nominees. Each nominated film is in the running for the acting and technical award categories and is in contention for the NTlayout_mode:content million Grand Prize, the Taiwan film industry's largest monetary prize. All nominated films will screen during the festival period. The winners will be chosen by a jury and announced at an award ceremony at Taipei's Zhongshan Hall on July 15.
Source: Taipei Film Festival
For more information, please visit the official website:
Taipei Film Festival