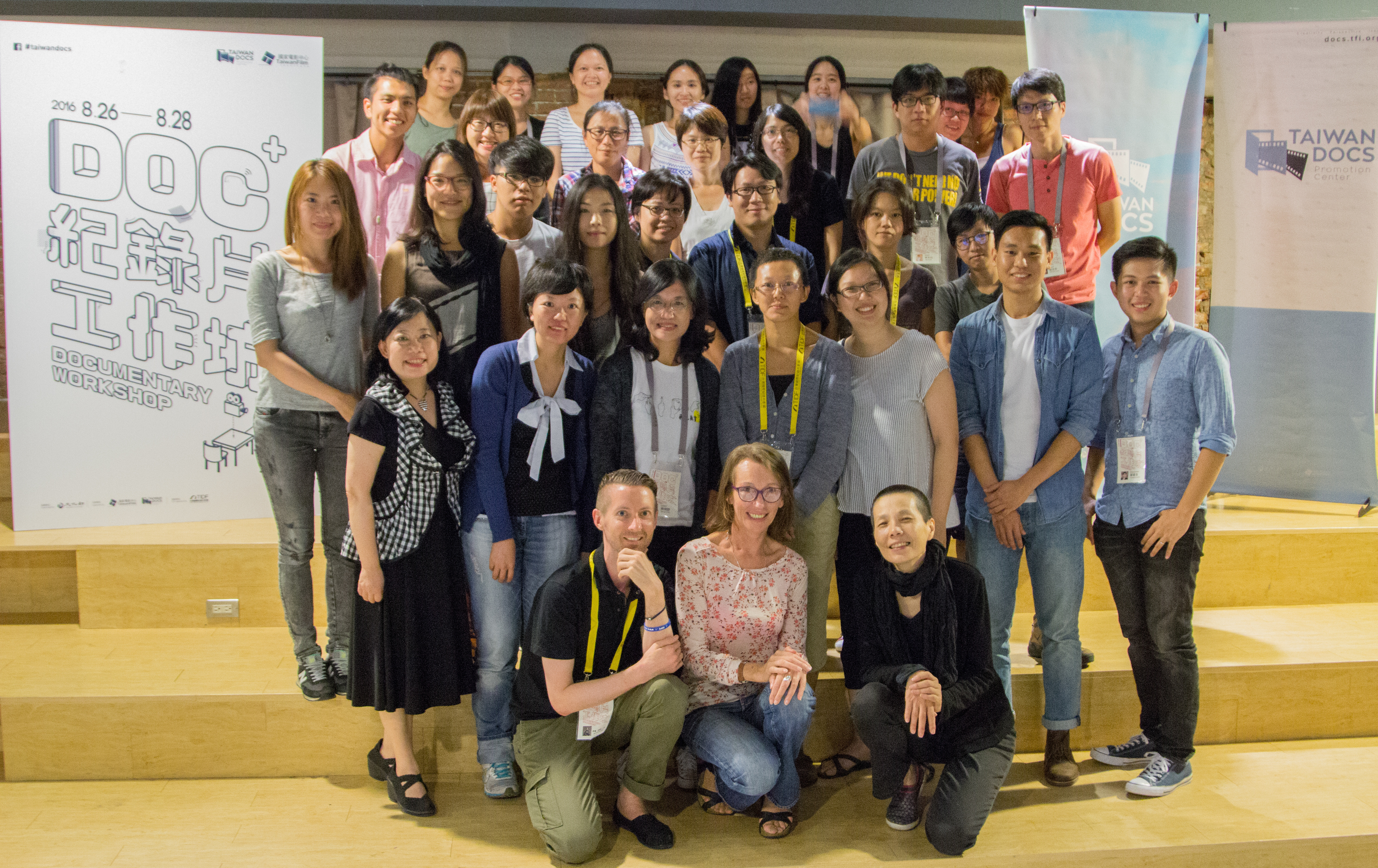 Besides presenting Taiwanese documentaries to international audience, Taiwan Docs also pays attention to cultivating emerging documentary filmmakers.
Seeing the lack of documentary film professionals in Taiwan, from 2015 we organise DOC+ Documentary Workshop and invite international specialists to give lectures on subjects including filmmaking, production and distribution.
The "+" of "DOC+" means strengthening one's point of view and taking one's film further. This year we go back to basics of filmmaking and have Chinese director FENG Yan, whose work is deeply influenced by OGAWA Shinsuke, Japan-based American director Ian Thomas ASH, and accomplished French film editor Cathie DAMBEL as our guests. They will examine, discuss, and offer guidance to the eight selected documentary projects as well as hold master classes, present their films and interact with local audience.
This year marks the second edition of DOC+ Documentary Workshop, and took place from 26th to 28th August. Through the participation of international guests and exchanges among local attendees, we hope to inject new creative energy into Taiwan's documentary film industry and hope you find the three-day workshop enjoyable and enriching.
Schedule
Day1
8.26 Fri
(By Invitation)
09:30-15:30 Welcome & Introduction, Presentation of Film Projects
(Open for Public)
16:00-18:20 Special Screening of Bingai + Q&A
19:00-21:30 "My"Point of View As A Filmmaker : Master Class with FENG Yan
Day2
8.27 Sat
(By Invitation)
10:00-15:30 One-on-one Discussion
(Open for Public)
16:00-18:00 Special Screening of The Ballad of Vicki and Jake + Q&A
19:00-21:30 Relationship with Documentary : Master Class with Ian Thomas ASH
Day3
8.28 Sun
(Open for Public)
09:30-11:45 Special Screening of We Come as Friends + Q&A
13:00-15:30 Editing Like Rewriting : Master Class with Cathie DAMBEL
16:00-17:30 Panel: From Paper Cut to Final Cut - Collaboration between
Directors and Editors
(By Invitation)
18:00-19:30 Wrap-up Discussion & Closing Remarks
19:30-22:00 Closing Party
Lecturer
FENG Yan
FENG was born in Tianjin, China. After studying Japanese Literature in university, she moved to Japan in 1988 and lived there for 13 years. Her feature length film Bingai won the Ogawa Shinsuke Prize at 2007 YIDFF. FENG provided the Chinese translation of Harvesting Film, a collection of talks by OGAWA Shinsuke on film, introducing Ogawa Productions to the Chinese-speaking world. Now FENG is editing her next project Daughters of the River, where she attempts to weave together the stories of four women within the context of the relocation of people after the completion of the Three Gorges Dam.
Ian Thomas ASH
Born in America, Ian Thomas ASH earned an MA in Film and Television Production at the University of Bristol, UK, in 2005. His first feature documentary, The Ballad of Vicki and Jake, received the Prix du Canton Vaud prize at the 2006 Visions du Réel in Nyon. ASH has lived in Japan for a total of 13 years and currently lives in Tokyo. His two feature documentaries about children living in areas of Fukushima contaminated by the 2011 nuclear meltdown, In the Grey Zone and A2-B-C, have been screened at festivals around the world. He is in production for two documentaries, one about terminal care in Japan, and the other about the third installment in his series about Fukushima.
Cathie DAMBEL
After her cinema's study in Sorbonne under Charles TESSON's direction, she chose to dedicate herself in documentary where space and forms look larger and promising. As a chief editor, she has worked as well with young filmmakers on first films than with renowned ones. Many of her films won prestigious and international awards at the various film festivals. Recently, Hubert SAUPER's We Come as Friends was nominated for an Oscar in the Best Documentary Feature. With rich teaching experience, she is now in charge of a specific Master dedicated to scenario writing of documentaries in Bordeaux Montaigne University, France.
Project
#01 Come Back, My Child (Dir: Jasmine Ching-hui LEE)
In New York, a different version of the American dream takes place through the story of two mothers, Chinese and Taiwanese.
#02 Spark on the Ocean (Dir: CHOU Wen-chin)
A story of people who aims to find the meaningful light of life in the fading fishing tradition.
#03 The Generation Freed - 20 Years after Taiwan's Educational Reforms (Dir: LO Yi-hsiu)
From middle school to their marriage, the story of 5 children over two decades.
#04 Shrouding the Clouds (Dir: CHAN Hao-chung)
In the sky above Yunlin clusters of clouds sometimes gather. One day I look up and realise they are not real clouds?
#05 Happy Birthday (Dir: Angel SU, CHEN Yu-ching)
Giving birth shouldn't be an unpleasant operation, but a journey of love.
#06 The Motor Island (Dir: TSAI Yann-shan)
A journey through motor rider's eyes.
#07 He Had Become An Island (Dir: Pinti ZHENG)
A journey in memory of a passed friend and a response to death.
#08 Sole Food (Dir: CHIU Yi-chi)
Comfort food, a collective memory, as it's far from home, Taiwan.