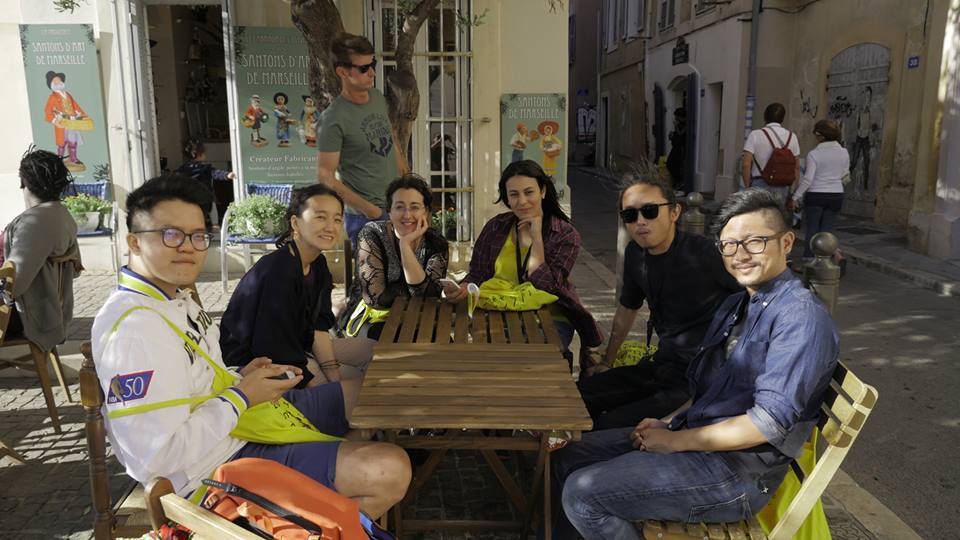 This year marks the fourth edition of FIDCampus, which was launched in 2013, when Marseille was named the European Capital of Culture. In the past FIDCampus partnered with film and art schools in the Mediterranean region as well as renowned French film school La Fémis and contemporary arts centre Le Fresnoy, with the schools recommending young talents for the organisers' consideration. This year FIDCampus worked with the Taiwan Cultural Centre in Paris and Taiwan Film Institute (TFI) for the first time on selecting three young film directors including CHIANG Wei-liang, Adiong LU and LIN Shih-chieh to attend the workshop. The organisers made a selection of 13 attendees for this year. Apart from the above-mentioned three representing Asia, young directors from France, Morocco, Tunisia, Egypt and Lebanon also joined the workshop and exchanged ideas with each other.
One of the three instructors of the workshop was French editor Claire ATHERTON. She is a collaborator for more than three decades with Belgian director Chantal AKERMAN, a leading figure of European art and experimental cinema. Other instructors included Cannes Film Festival award-winning Spanish director Oliver LAXE and previous FIDMarseille winner Algerian Narimane MARI.
Intensive classes were scheduled in the first two days of FIDCampus, when attendees watched each other's works in a screening room and then discussed them together. This is the part of the workshop that focuses the most on creative work. Unlike other film festival workshops for film projects in progress, FIDCampus provides a brief and precise curriculum where attendees and instructors watch and discuss completed works. Organiser and member of the selection committee Nicolas FEODOROFF noted that watching completed films keeps the discussions more specific.
Having to work on their own most of the time, film creators may lack training in expounding their work. The workshop discussions not only offer them professional advice, but also help clarify the ideas and context of their work. Young directors are in the process of creating their own film language, which may be innovative experiments never seen before, and critical thinking can help guide the direction of their work. Exchanging points of view with filmmakers from diverse backgrounds should prove valuable to those who are interested in expanding their international market and audience.
Foreign Interpretation and Its Impact
One of the workshop attendees, director LIN Shih-chieh said in an interview that the screening of his film Xinyiwood had the instructors baffled. He analysed that his oriental way of thinking makes it difficult for the western audiences to understand his film immediately, in particular the connection between the poetry quotations and the main theme of the film. Once Upon A Time When Robin Hood Grew Old by director Adiong LU was then screened in Europe for the first time. Centring around WU Le-tian, this documentary connects closely to the Taiwanese society and everyday life; how Europeans view this film engages one's interest. This experience allowed LU to re-examine his film and creative development through the eyes of foreign audiences. "Attending FIDMarseille helped me get a clearer idea of what exactly I am doing," he said. Getting beyond the context of Taiwan and adopting a more intuitive film language to communicate with foreign audiences could be a challenge for his next film.
Another director CHIANG Wei-liang, attending FIDCampus with his film Anchorage Prohibited, thinks the workshop instructors are very open-minded. Regardless of the attendee's background, culture, and level of experience, they tried their best to understand the thoughts and developments behind each person's work and were able to delve into the filmmaker's intention behind the form. Such exchange was thought-provoking. What's more, he commented that his biggest gain from the workshop is to encounter filmmakers of his generation and, from their work, get to know the cinematic language and development of different countries. This not only broadened his view of film industries in the world, but also laid the foundation for future collaboration. FIDCampus organiser Nicolas FEODOROFF believed these Taiwanese directors have contributed new ideas and perspectives to this year's workshop.
Classes on the last five days of FIDCampus were organised mainly around the film festival schedule, including watching the newly completed films by last year's FIDCampus attendees, films in competitions and retrospectives, and also meeting directors and visiting the FID exhibition of contemporary visual arts. Meetings with film professionals included auditing FIDLab and meeting the curator of Museum of the Moving Image, New York and French cinematographer Caroline CHAMPETIER, who worked with GODDARD and TRUFFAUT. Among these activities, FID programme director's guide to festival strategy was one of the most practical.
Screenings of Jessica Wan-yu LIN's TPE-Tics
Director Jessica Wan-yu LIN's documentary feature TPE-Tics was selected into the "Parallel Screens – Distortions" section of FIDMarseille this year. LIN was also invited to attend the screenings. This was the European premiere of TPE-Tics and the audience was not at all familiar with the film's protagonist – sound and performance artist HUANG Da-wang.
The programmer of this section is Gilles GRAND, a French electroacoustic music composer who was once an editor for Cahiers du Cinéma. To select films for this section about sound and music, GRAND travelled to Taiwan to visit local sound art exhibitions and performances.
The post-screening Q&A session mostly surrounded around HUANG Da-wang, whom the audience was very curious about. Some wondered why he is still depressed even though he is so talented and gets to do many performances. Director LIN explained that Da-wang was not as famous when she first began filming him and that he was lonelier then in comparison to how he is now. For example, he didn't have many friends at school and never had a "proper" job since graduating; his family had no idea what he was doing. Living under the expectations of the Taiwanese society, it seems that we all have to be a "normal person", who doesn't stand out from the crowd.
On this topic, GRAND shared what he had observed in Taiwan: "All the artists in the Taiwanese art circle are very young and those of other ages are less often seen. Economically speaking, the people of Taiwan appear to be rich but when it comes to exhibiting one's artistic creation, it is not that easy. This is very different from how things are in Europe, the US, or Japan. I suppose it is not easy to stay in the underground music scene for 10 or 20 years."
Besides Da-wang's stage performances, director LIN also saw the close relation between the performance artist and urban space. She talked about the hiking trips she took with Da-wang and other friends, during which Da-wang was always able to improvise, telling stories with his unique humour and expressing his critical thoughts on the space surrounding him. While filming Da-wang, she followed him to the edges and corners of Taipei City and captured the life and breath of space on film. GRAND also added that he had visited Taipei three times. In his impression, the city was very clean; he had never seen any run-down ruins like the ones in the film. He believed the director wanted to construct the space of the film and reflect the central character's inner world with the desolation and isolation of ruins.
During the Q&A session, a French choreographer spoke about how he got into the cinema and watched TPE-Tics by chance. He praised Da-wang's physical expression and thought the scene where he tumbled was "well performed" and that his performance was very much dance-like.
When facing their work, all filmmakers must keep in mind their original intention. What would that be for director LIN? A Taiwanese student in Marseille raised a question to LIN: "What is art for you?" She replied: "This is difficult to answer. For me, art is a seconds-long encounter between me and another person in the courses of our lives. This is the answer I can give you for now."
(Translated by TAN Chen-chih)