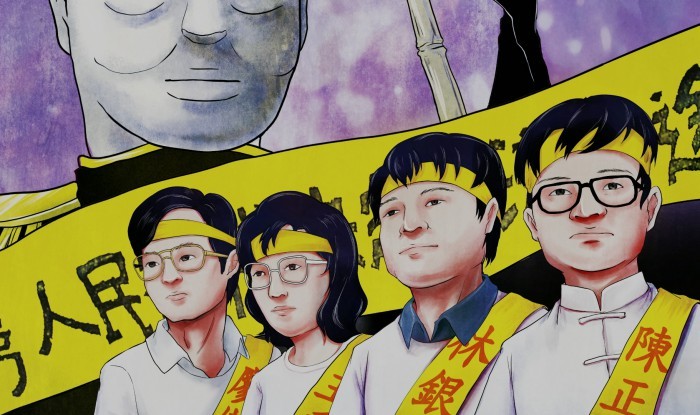 In 1987, the Martial Law in Taiwan has been lifted. Social movements and the need for democracy arose. Nevertheless, in May 1991, MJIB (The Ministry of Justice Investigation Bureau) arrested four youths, including LIAO Wei-cheng, a graduate student from the History Department of National Tsing Hua University; historian and literary worker, CHEN Jen-ran; activist, WANG Xiu-hui, and a priest at the Presbyterian Church in Taiwan, LIN Yin-fu (Masao), for allegedly joined and participated in TIA (Taiwan Independence Association). The case is known as the "TIA Incident." They were prosecuted under the "2-1 Act" for the Control and Punishment of Rebellion, which was a crime punished by only death penalty. This prosecution result in students from different schools to go on strikes, and many social forces supported it, sat in and protested at the Taipei Main Station. Nine days after the incident, the Legislative Yuan abolished the Act for the Control and Punishment of Rebellion that had gone on for 42 years.
20 years went by, LIAO Jian-hua, also a student at National Tsing Hua University, went through in-depth interviews and historical research to complete this documentary, The Last Insurrection. It shows the course of the TIA Incident and its subsequent development. The following is a summary of an interview with the director, LIAO Jian-hua.
Q: What was the motivation behind making The Last Insurrection?
When I was reading the memoirs of SU Being and surprised to find that at the very same dormitory I used to stay at, a guy (LIAO Wei-cheng) was actually arrested because of the "TIA Incident." I felt the enormous difference between now and then since it is mostly about video games in the dorms. In addition, I've always been interested in the history and past images of Taiwan. However, take the often-seen Japanese occupation of Taiwan for example, my sources were limited to the Internet. It was not until later when a lot of my schoolmates got involved in the "Anti-Media Monopoly Movement" in 2012 that I came in touch with sociology, which affected my perspectives on things.
Q: Can you tell us the creative process, from when you decided to make the film until you actually finished it?
I started making The Last Insurrection during my second year in graduate school and it took me two years to complete, just before my graduation. At first, I wanted to make a film about the arrested LIAO Wei-cheng, so I was emphasizing more on the "student movements." When I had done more field research, I realized that I wasn't really clear on a lot of details. If I had only focused on the story of his life, a lot of aspects from that period of time would have been lost.
When we look back in history, regardless of the era, students movements are particularly easy to receive public attention and are often protected. Many social movements that were labeled as "student movements," such as the Wild Lily Student Movement and the Sunflower Student Movement, when in fact the participants range from different levels and social forces, yet the media tend to focus on the students. As a result, the interpretation of history has always been from the perspective of students.
For example, the arrested Masao and WANG Xiu-hui, they were just members of the society. Whilst the former represents the independence of indigenous people in Taiwan, the latter represents women from that era, but there is very little information on them remained because history tends to be in favor of the students. The stories of the disadvantaged are more difficult to be seen.
When we talk about a movement or an incident, we basically only talk about the good part. "Good" refers to sacrifice, dedication and heroes. On the other hand, however, subjects and issues like defeat, failure, gender inequality, ethnical conflicts and social class are less mentioned. Therefore, when it comes to editing, my approach was to "deheroize." Instead of creating a cult, I'd rather portray a more comprehensive social appearance.
Q: Would The Last Insurrection have any impact on your creative process from now on?
The film that I'm currently working on is dealing with post-social movement traumas. There are many different types of traumas involving movements. It may exists between peers, between the movement leader and his/her followers. And if you look at the participants from their families' perspective, that would be different as well. I knew because I filmed Masao and WANG Xiu-hui. After acknowledging their stories, that's one of the phases I'd like to continue developing.
In a way, I am currently following a group of "elders" who have been deeply involved in social movements. When I come in contact with them, different comment would come out from different people, which broke the stereotype for me and think outside my own perspective.
Q: What is your take on social participation and social movements? Why do you choose to observe and to become a documentary filmmaker? Is there anything you'd like to say to the younger generations who aren't into history?
I only know how to make films, I've also written poetry in the past. I believe all artists want their works to be seen, and image is just one of them. There are actually a lot of ways for everyone to participate in the society. Becoming a director is more of a career plan, I get to meet different people through filmmaking, and I'd like to do so while I'm still young.
Back on social movements, I feel like after calling out to public, most leaders, who the society pays close attention to, are incapable of being responsible to the majority of the participants. These leaders will almost certainly face false charges, but at the same time, they are also accumulating their political capital. However, there are more people likely need to put their work and family aside to deal with the post-social movement traumas all by themselves.
The chemistry within a social movement requires more sophisticated discussion. I don't think everyone needs to come forward, nor will I go so far as condemning those who do not participate. Of course there are a lot of things the requires each and everyone one of us to take part in, yet what I have to say is, one will always need to find a way out of oneself, that is, including facing your own trauma as no one will be responsible for that. I think this is a more pessimistic conclusion here. I see filmmaking as my way out. It is not to judge anyone, but to share what I have seen.
Lastly, I don't know how to make people become "more into history," that's more of an educational and social issue. It's not something I'm capable of answering. What I can say is this, if you happen to see this film, perhaps when you look at an incident or a movement in the future, you will be able to look at it with different perspectives.
For more information about The Last Insurrection, please click here.
(Translated by Jim-bo LEE)