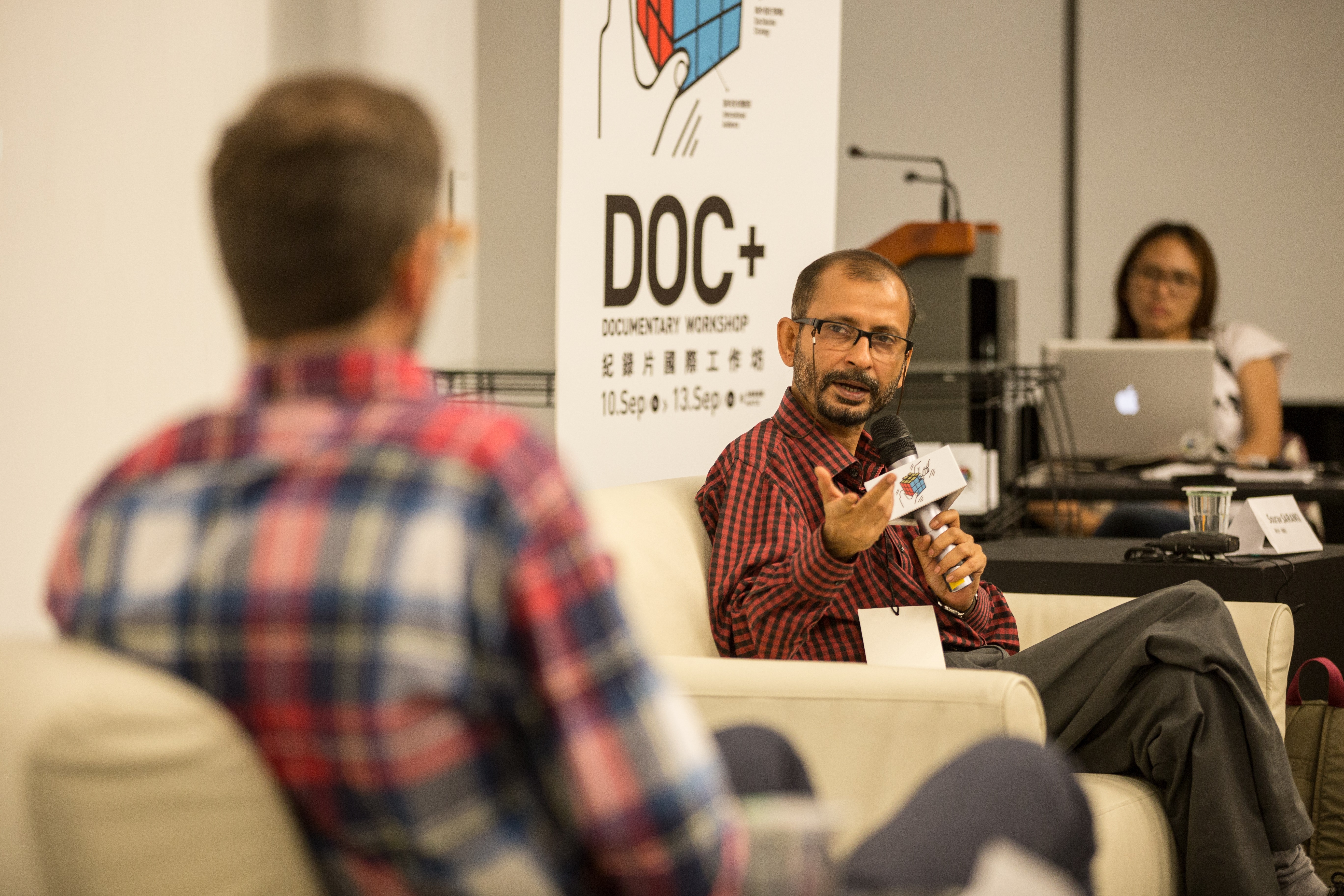 Taiwan Film Institute held a "DOC+ Documentary Workshop" in Taipei from September 10th to 13th, 2015. Over four intensive days of classes ranging from large-scale lectures to exclusive professional workshops, experienced international producers and sales agents offered in-depth insights into the documentary-making process, from fundraising and production to distribution. Domestic and foreign filmmakers who have participated in international co-productions were also invited to share their experiences. Thanks to these discussions and sharing of experiences, we have been able to tear down some of the preconceived notions about the international co-production model. This observational report seeks to share some of the highlights of this workshop with a particular focus on international co-productions.
Producers
The Filmmaker's Strategist and Partner
In the European and American documentary and feature film industries, the producer is regarded as having a key role in the production process. But in the domain of Taiwan's independent documentary films, production remains very much a solitary struggle for the director. "Taiwan needs to cultivate professional documentary producers," director YU Kuang-chong, who worked on the co-produced 8000 Miles from Hip Hop with Finland, loudly proclaimed during the talk "The First Step to International Collaboration: A Good Producer". HUANG Hui-zhen, the director of The Priestess Walks Alone, discussed during the same session her experience of cooperating with Taiwan-born New York producer Diana Chiawen LEE. "The documentary production process is like playing chess", she said in drawing an analogy between the roles of the producer and director. "The director is the chess player, while the producer is like the strategist, always thinking five, six steps ahead". The assistance of a professional producer allows the director to focus on the filmmaking, and also provides professional advice during the creative process so that it's no longer a solitary struggle. The network of connections and resources of the producer can also offer more opportunities for the film to find a better starting point on the international stage.
In an ideal scenario, the producer assists the director in preparing and managing various filming and post-production resources, as well as the distribution of the film upon its completion. This could often turn into a three-year partnership, which is why the relationship between producer and director is extremely important. In the session "How To Be A Professional Producer?" Canadian producer Bob MOORE discussed not only the entire process of a producer starting from the new partnership to financing and distribution, but also emphasized the importance of communication and mutual respect between directors and producers. He believes apart from developing chemistry, producers and filmmakers need to – under the premise of mutual respect and complete dedication to the project –openly and honestly discuss all the details of their cooperation before outlining the agreed terms in a formal contract. In the "The First Step to International Collaboration: A Good Producer" session, guest speakers also emphasized how crucial it is to pick the right partner and to maintain mutual respect. "Documentary producers and directors can work together for a very long time. Their relationship is like a marriage, so differences of opinions are unavoidable, but only mutual respect can lead to growth", producer Diana Chiawen LEE said. Her collaborator, director HUANG Hui-zhen, also said, "Producers and directors need to collaborate over a long term, so you must look for like-minded partners". 8000 Miles from Hip Hop director YU Kuang-chong added, "No one will film a topic they don't like, or work with someone they don't like".
But how can Taiwan address its dearth of professional producers? When I discussed the problem with Austrian lecturer Peter JÄGER, he noted that Austria's documentary industry also previously suffered from a lack of producers. At the time, his advice to public authorities was to spend a number of years subsidizing young producers to attend important documentary film festivals and pitching forums, so they can directly observe the pitching forums and meet with producers and filmmakers from around the world. The idea is to use these eye-opening experiences to speed up their development of professional expertise and aesthetic values. After the initiative was implemented for several years, Austria was indeed able to cultivate several producers whose professional abilities and accomplishments rivaled that of the country's best.
Rethinking International Pitching Forums:
Discussion Is More Important Than Money
International pitching forums are one of the main fundraising platforms for documentary films today, though the purpose of attending such events extends beyond merely acquiring financing. "Pitching is not trying to sell something. Investors won't buy this kind of approach. You should be using the pitch to practice public speaking, organize ideas, listen to opinions", said documentary filmmaker Rob ROMBOUT during his master class. Indian documentary director Sourav SARANGI also noted in another session: "The biggest winner of the pitching forum isn't always the winner of the pitching award. The more important gains come from the discussions with lecturers and participants during the pitching workshops, and the challenges and feedback from speaking face-to-face with investors, which can help you develop new perspectives on your work". Additionally, while the majority of independent documentary filmmakers have feature-length documentaries as their goal, Canadian producer Bob MOORE pointed out that the format is not necessarily popular at pitching forums. Though Bob primarily produces documentary features himself, he noted that TV channels still control the most production resources in the global industry, which is why seeking opportunities to work with TV networks remain an important goal for many producers. He encouraged filmmakers to consider more than just one format when conceptualizing their projects so that their works will have more opportunities to locate resources. "Not all investors require filmmakers to only have one version of their work, so creators of documentary features should keep an open mind towards making a TV-length documentary during the pre-production phase and include it as an option when attending pitching forums", Bob said. On the other hand, Diana Chiawen LEE noted that she often works with the director to adjust the emphasis of their pitch depending on particular focuses or interests of the pitching forum.
Cross-cultural and Cross-border Cooperation:
Exchanging Creativity Is Not Compromising
Cross-border co-productions can help a project acquire more funding as well as provide opportunities to work with foreign investors and technical staffs. But filmmakers often worry that they might be met with strong pressure – typically from a TV channel's commissioning editor – to work with specific narrative structures or other requirements, forcing the film to be dictated by financiers and resulting in a project that deviates from personal expectations. The numerous discussions from the workshop, however, indicate that this is not necessarily the case.
In the session "Crossing Borders: International Co-production with Asian Partners", Bob and Sourav exchanged their experiences on international co-productions from both the East and West perspectives. Sourav is a senior documentary director and experienced producer, whose recent works Bilal (2008) and Char…The No-Man's Island (2012) were both international co-productions selected to several important film festivals. Despite being under an international co-production framework, his work remains strong experimental and independent in storytelling and visual style. Sourav did address everyone's concerns, noting that he believes it is inevitable that people are prejudiced towards TV commissioning editors due to their reputation for interfering and dictating the creative process. "Commissioning editors aren't bad people. Sometimes they can give us quite a lot of assistance from the creation and funding side", Sourav said. "But mainstream documentary channels usually won't accept all creative documentaries, and some TV commissioning editors can be quite controlling. Personally speaking, that's not the kind of collaboration partner for me". Accordingly, understanding your preferred collaboration way and being patient in selecting investment partners could pay off for your project. However, he also emphasizes the importance of producer's role when working with TV networks: "The person collaborating with the TV channel should be the producer, not the director". The producer should be responsible for communicating and coordinating with the funders, while the filmmaker should be focused on making the documentary.
When international co-productions are faced with clashes in culture or differences of opinion, being open to listen and communicate will not just help prevent the project from being sidetracked, it might even lead to more gains at the creative level. During the session, Sourav shared his experiences in editing the film Char…The No Man's Island. The film, which captures refugees left homeless by a natural disaster on the river Ganga, underwent editing in Japan. Before the editing process began, Sourav first spent a whole day communicating and exchanging views with the editor. "A creative collaboration with professionals from other countries is a process of two dedicated sides exchanging ideas", Sourav said. As a filmmaker, he also has certain things he will insist on, and doesn't worry about interference from others. When it comes to how to deal with different advice during an international collaboration, Sourav advises: "You must fully understand yourself, your subject. Start from there, and enrich your work through collaborating with other people. It's not about constantly making compromises".
Finding A Balance Between Local Identity and International Perspective
International collaborations undoubtedly mean that narrative strategies also need to be adjusted in light of difference audiences. One is to dig to the core of the film's universal values, and the other is to adjust the storytelling methods to appeal to audiences from different backgrounds. As an example, Bob referred to his Canadian-Japanese co-produced documentary exploring Japan's unique idol culture. This is a topic very familiar to Japanese audiences but a completely foreign cultural shock to Western society. As such, when the director of the film decided to proceed with a cross-border co-production, it became necessary to adjust the storytelling approach to guide audiences from other cultures so they can understand the background of the topic. However, Bob also noted that choosing to shoot a particular topic for international audiences doesn't mean completely sacrificing the film's local cultural identity and impact. "When audiences from other cultures see the topic, they can still use it to reflect on their own situations". This kind of adjustment doesn't represent sacrificing the original intent of the film – it's just about trying to find a balance between international audiences and local identity in an international co-production backdrop.
Sourav's Bilal and HUANG Hui-zhen's The Priestess Walks Alone are both extremely local and intimate stories that offer a glimpse of universal emotions. The subject of Bilal is the child of a blind couple in the slums of India. Through footage captures over an extended period of time, we see the growing affection between the filmmaker and this little boy, as well as the precious kinship of a family in which everyone supports each other. HUANG's The Priestess Walks Alone captures the intimate conversations between a lesbian mother and her heterosexual daughter. Though the documentary touches upon Taiwan's Taoist culture, the narrative still revolves around universal themes such as the mother-daughter relationship and gender identity, enabling the film to break through barriers of culture and nationality.
Choose the Right Starting Point:
From Festival Strategies to Increasingly Complex Distribution Channels
During the workshop, the speakers repeatedly emphasized the importance of film festival strategies. Picking the right film festival as a starting point, or even winning a key award, will no doubt be able to significantly increase the film's global exposure and bargaining chips for further distribution opportunities down the track. Therefore, first and second-tier film festivals in Europe, America, Asia and other areas have become a stage for every documentary film to fight for a chance to shine. When it comes to boosting a film's odds of being selected, the roles of the producer and the sales agent become especially important. In the session "Global Distribution of Docs", experienced producer and distributor Irena TASKOVSKI discussed the roles of the producer and sales agent in the film festival process, noting that the majority of people in these positions keep in touch with the programmers of various festivals and will be pro-active in contacting suitable festivals in line with a film's characteristics. They may even coordinate and negotiate between different film festivals to increase exposure and opportunities to compete for awards.
Though most independent Taiwanese filmmakers do not have their own producers and distribution agents, Irena suggested that they can still try to contact film festivals themselves. It is important to believe in your own work and not allow film festivals to take advantage due to your lack of confidence or to be discouraged by rejection, she said, adding that every filmmaker should prepare a list to submit for film festivals. Irena shared her own list, which includes more than 300 film festivals of varying sizes across Europe, America, Asia and even Africa, with each entry details such as the deadline for submissions and specific attributes of the festival. Irena encouraged everyone to start compiling their own database of film festival and pitch-related information through online platforms such as British Council, EDN, and Cinando.
If a film is successfully selected by a film festival, it is important to first prepare promotional materials and a press kit so they can be emailed to relevant media in advance or left for attending reporters at the festival's media center. Apart from a synopsis and stills, the press kit can also include remarks or reviews from the media to attract attention. Additionally, it can offer some other details linked to the film, such as the societal background or statistics related to the film's theme. Any of this information could end up enhancing interest to different types of media outlets, and may potentially be a good starting point for their reports.
Once a film receives positive feedback or wins an award at an important film festival, it will have opportunities to enter into more festivals and be favored by distributors and TV networks. At this time, it is the job of the sales agent or producer to contact distributors. In the session "Legal Surgery for Global Distribution", lecturer Peter JÄGER discussed the licensing models and profit sharing ratios between producers, sales agents, distributors and channel suppliers. In particular, he noted that film distribution work is becoming more and more complex in the digital age. Apart from existing channels such as film festivals, cinemas, DVDs and VOD, there are now also various video streaming platforms (such as Netflix, iTunes, etc.). Each of these digital platforms may require a different video format, which adds more costs to the production budget and increases the difficulty of management. Peter warns that there have been numerous authorization and profit-sharing disputes involving streaming platforms in recent years, so special care should be taken when negotiating copyright issues.
The DOC+ Documentary Workshop was a rare event that offered Taiwan's documentary industry deep insights into the various aspects of international collaborations. In addition to providing a thorough introduction to funding, production and international distribution processes, the workshop was also an important opportunity for exchange between Taiwanese documentary filmmakers and professional producers and distributors from around the world, making it especially meaningful for the goal of cultivating local talents. If Taiwan intends to develop a healthy environment for documentary production, nurturing professional producers with an understanding of the international industry remains the top priority. This workshop has opened a door for people with such lofty ambitions, and hopefully there will be more similar events in the future to help bring out a new generation of young professional producers.
(Translated by Howard SHIH)