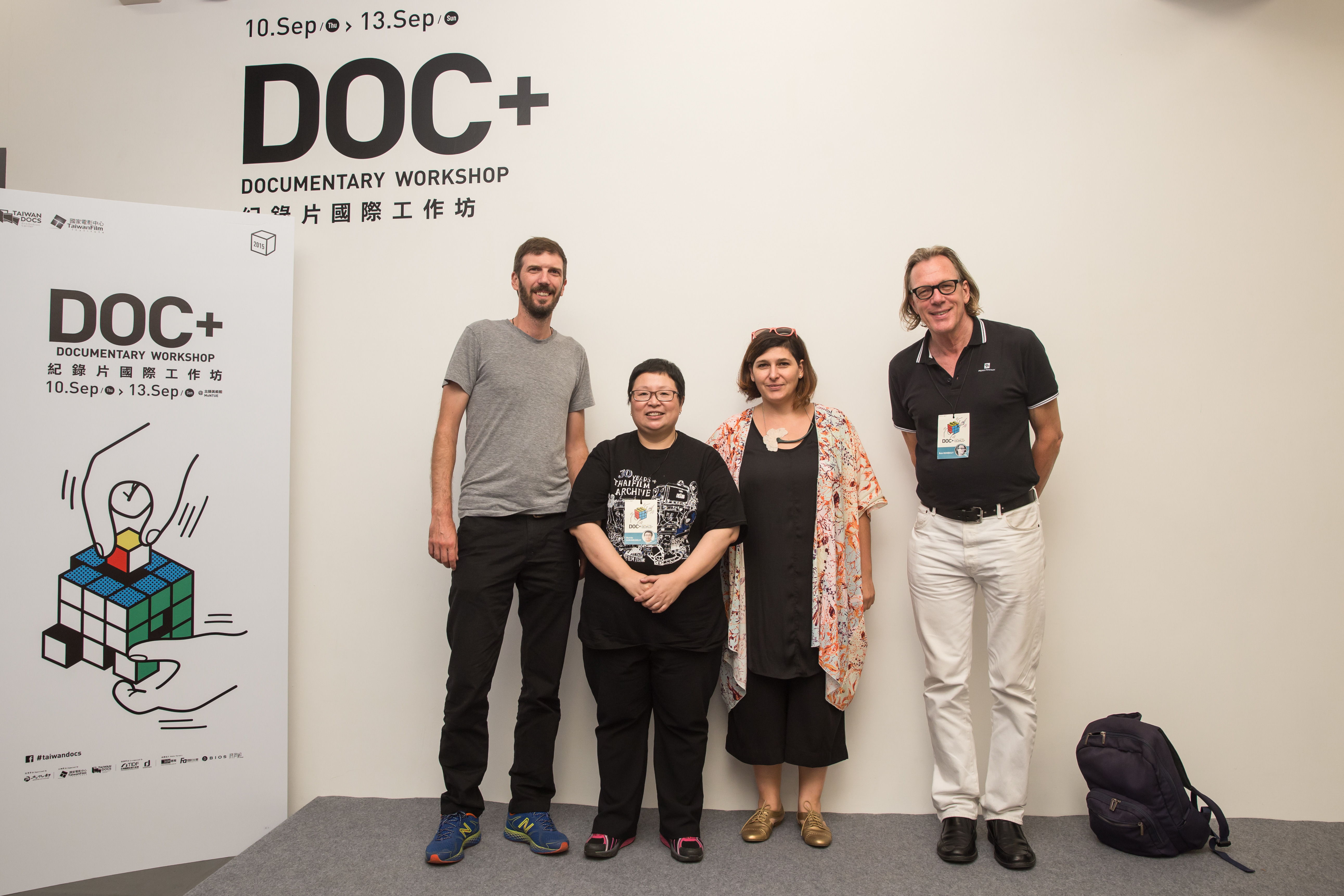 DOC+ Documentary Workshop was held by Taiwan Film Institute in the Museum of National Taipei University of Education (MoNTUE), Taipei, from September 10th to 13th. During this four-day training program, six professionals from Europe, North America, and Southeast Asia, were invited to provide lectures alongside 11 Taiwanese documentary professionals, attracting nearly 200 enthusiastic participants from the documentary film industry and inducted them into heated discussion throughout the workshop. International lecturers included Irena TASKOVSKI, the founder and CEO of the UK sales and production company Taskovski Films; Peter Jäger, the founder of the Austrian sales agency Autlook; Bob MOORE, the producer of Canadian production company EyeSteelFilm; Chalida UABUMRUNGJIT, a committee member of Asian Network of Documentary; and documentary film directors Rob ROMBOUT and Sourav SARANGI.
The workshop focused on various aspects from development, production to distribution of the documentary industry. Irena TASKOVSKI and Peter JÄGER brought lectures related to international sales based on their expertise. Irena shared with the Taiwanese audiences the possibility of creative production and distribution, as well as strategies for film festivals, in the hope for Taiwanese documentary films to expand and extend market engagement. Peter gave an introduction of contracts for international distribution and tips for management of copyright with new media. In addition, Irena and Peter offered a course on Rough Cut and Distribution Strategy. They advised the filmmakers and editors of The Priestess Walks Alone on film editing and future distribution. The film director HUANG Hui-Zhen thought this kind of training course in post-production stage is practical, and provided a wonderful learning opportunity.
Canadian producer Bob Moore is highly experienced in the co-production of Asian-theme documentaries. He analyzed the producer's roles in the stages of developing, producing, and distributing a documentary film. He also used case studies from the class participants' projects to brainstorm and articulate examples of the process, and advised on their funding strategies. Through his lecture, the concept of a professional producer was highlighted for the proper management of multidisciplinary collaboration in the industry. Furthermore, he and the Indian director, Sourav SARANGI, both shared their experiences of international coproduction. They both met their international collaborators at pitching forums. They also agreed on the importance of pitching forums other than winning awards or prizes, because the directors, producers and commissioning editors you meet could open up further exchanges and potential collaborations.
Rob ROMBOUT, the direct of Amsterdam Stories USA, a film selected at 2014 Taiwan International Documentary Festival (TIDF) international competition, was also once again invited to Taiwan. He screened four of his student films as well as his own, sharing his concepts and techniques on script writing, directing, and filming. Chalida UABUMRUNGJIT, the expert on Asian documentary films, was also invited to make a discussion with senior Taiwanese film curator Jane H.C. YU, who is also her fellow committee member at Asian Network of Documentary (AND). For the past ten years, AND strived to support Asian documentary films and provide funding as well as consultation. Chalida UABUMRUNGJIT pointed out that, based on her observations for years, Asian filmmakers were not accustomed to pitching and openly talking about his/her own work. Therefore, AND members do emphasize on all the materials submitted by applicants. They also hold training workshops to discover talents in Asia.
Aside from international guests, eleven Taiwanese documentary film professionals included the Secretary General of Taipei Documentary Filmmakers' Union and director Hui-Zhen HUANG, producer Diana Chiawen LEE, the director of 8000 Miles from Hip Hop YU Kuang-Chon, Steve WANG from Activator Marketing Company, Festival Curator Jane H. C. YU, producer WANG Pai-Zhang, and director Lungnan Isak Fangas. They discussed about current state of funding, production and distribution for documentary films in Taiwan. The producer of PTS Viewpoint, WANG Pai-Zhang believed that, in spite of a growing number of screening channels, for the healthy development of documentary films, we should not rely solely on the market. What matters is to maintain the freedom of creative production, whereas support from the government should require a vision with a well-founded plan. In addition to special seminars, DOC+ Documentary Workshop also joined force with TIDF and invited their eleven selected teams in 2015 DOC DOC Workshop to participate in the one-day industrial training course on September 11th. During which, Bob MOORE, Chalida UABUMRUNGJIT, Irena TASKOVSKI, and Rob ROMBOUT analyzed their potentials for international market, and did the one-on-one meetings with selected projects. Four lecturers gave participants advices on story development, production and distribution plans. These international lecturers said that, through this course, they saw the diversity and potentials of Taiwanese documentary films, and at the same time, getting a better understanding of the current Taiwanese documentary films.
DOC+ Documentary Workshop hopes that the professional courses provided by both international and local speakers build up the innovative ideas with international perspectives from Taiwanese filmmakers. In addition to the workshop, Taiwan Film Institute will continue with new events and programs to promote further discussions and exchanges in the documentary industry.