Entertainment
Sport
Adventure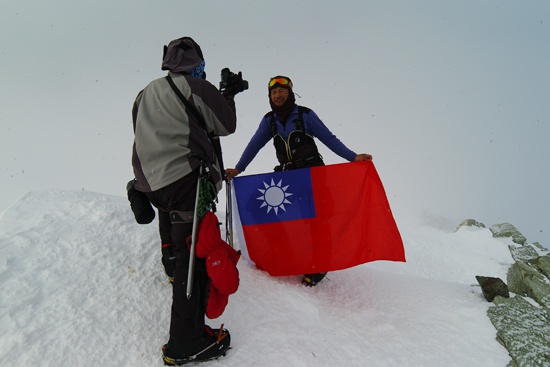 Synopsis
Image Copyright © KE Chin-yuan. All Rights Reserved.
Global Climate Changes
The World Meteorological Organization (WMO) designated 2007 to 2008 International Polar Year. More than 50,000 scientists from over 60 countries are simultaneously carrying out more than 200 researches relevant to global climate changes. In line with increased environmental awareness worldwide, documentary filmmakers from Taiwan embarked on their first ever journey to the South Pole to better understand the effects of global warming. They also captured in film the petrifying experiences of the members of the Seven Summits Climbing Team from Taiwan, who braved the highest peak in Antarctica, the Vinson Massif.
Realization of Dreams and Human's Self Challenges
The film documents how the mountain climbers adapted to the low-temperature environment, their life in the pole, their snow land scaling techniques and training, as well as their grueling trip up the main peak. Along their way, they were buffeted by fierce snowstorm, where temperature dropped to less than 30 degrees below zero. Members of another climbing team got lost, and their own team members were also trapped in the hostile weather. Global warming has melted the glacial lakes, created more crevasses, and made their trek all the more dangerous.
First Chinese Female Set Foot on Seven Summits
Four resolute mountain climbers with different backgrounds overcame these obstacles and challenges. Chiang Hsiu-chen, the lone female climber, became the first Chinese female mountain climber to successfully set foot on the highest peak in the seven continents when she stood atop Vinson Massif. Ke Chin-yuan, the film's director and cameraman, was with the climbers the entire journey, and was able to capture up close stirring moments when the exhausted mountain climbers were at the brink of life and death.
Text Source: Public Television Service Taiwan
http://eng.pts.org.tw/programsAZ_in.php?u=aWQ9NTQ=
http://www.youtube.com/watch?v=O04DjTATtRk
Director Statement
Image Copyright © KE Chin-yuan. All Rights Reserved.
Festivals & Awards
2008 Green Wave - 21st Century European Environment Festival
2008 YiLan Green International Film Festival in Taiwan (GIFT)
2008 International Festival of Tourist, Sports, Ecological and Gastronomic Films (MEFEST)
2008 Green Wave - 21st Century European Environment Festival
2008 YiLan Green International Film Festival in Taiwan (GIFT)