Society
Human Interest
Investigative
Author's Point of View
Ethnology
Folk
Religion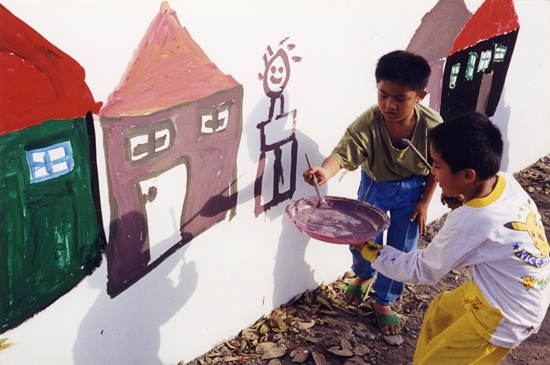 Synopsis
"Good morning, radio land. You're listening to Radio Mihu, and this is Bayas. Today we're going to talk about pares, persimmons and some gossip about mudflows …" Sharply and jokingly, Bayas tells the story of the reconstruction after the 921 earthquake at the Mihu tribe. In this documentary, we'll see the disunity and conflicts in the tribe, and we'll find that this aboriginal tribe is just like a mini version of the society of Taiwan.
Copyright © LEE Jong-wang. All Rights Reserved.
http://www.youtube.com/watch?v=uqmyT-d821k
Director Statement
In September of 1999, 12 of us from Fullshot Communication Foundation decided to go to the disaster area of the 921 earthquake in central Taiwan to make documentaries. To our surprise, this trip has changed our impression on the land, humanity, and ourselves. We spent four years in central Taiwan, and we have become friends with the victims of the earthquakes. The complexion thus confused us; it's hard to say who's shooting the documentary, and who's being shot. With our cameras, we have learned from Mother Nature and the victims, and witnessed the power of reconstruction, spiritually and physically, among common people. The process, or we called it "mission", was difficult and tiring, but we've finally finished the six documentaries, and Radio Mihu is one of them.
We sincerely hope that people will open their minds and understand each other more after watching the documentaries. Standing on a common ground, only can we hug each other and face the difficulties bravely. We'll then accept the reality and step forward.
Copyright © LEE Jong-wang. All Rights Reserved.
Festivals & Awards
2004 Taiwna International Documentary Festival - Special Jury Prize for Taiwan Award
2004 Taiwna International Documentary Festival
2005 Golden Harvest Awards - Merit Prize for Digital Video
2005 Yamagata International Documentary Film Festival
2005 Golden Harvest Awards
2005 Yamagata International Documentary Film Festival
2006 Hong Kong Social Movement Film Festival
2006 Hong Kong Social Movement Film Festival