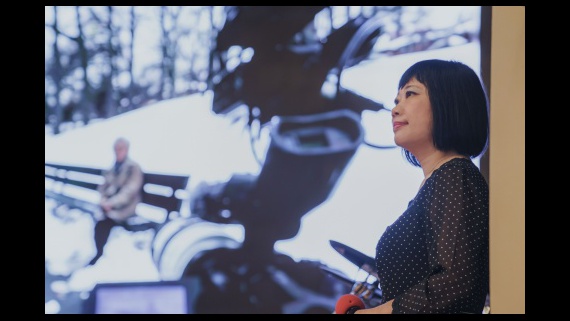 Introduction
Jasmine LEE Ching-hui is an independent filmmaker from Taiwan. She is a pioneer in focusing on the disadvantaged social groups such as the elderlies, women, migrant workers and long-term caregivers. Jasmine Lee is the first director from Taiwan to receive Asia Network of Documentary fund. One of the extraordinary directors from Taiwan recommended by Taipei Film Commission. Her arts exhibit the resilience and affection of feminine strength. She is an associate professor and the chairman of Communication Art program at Da-Yeh University, Taiwan.
Jasmine made the first documentary of Realm of Womanhood Documentary Series, Where Is My Home (1999), after her grandparents moved into a nursing home in 1996. She has continued to document Taiwan's elderly and their foreign caretakers in nursing homes ever since. The Ballads of Grandmothers (2003) won First Prize in the International Women's Film Festival in Seoul and the Best Individual Achievement Award in the Taipei Film Festival. City of Memories (2007) won the Best Documentary prize in the South Taiwan Film Festival. Dear my Love (2008) was a Invitational Creative Works in the Self-Filmed Division of Taiwan International Women Make Waves Film Festival. Money and Honey (2012) is the latest in the Realm of Womanhood Documentary Series.
Money and Honey was awarded grants from the Asian Network of Documentary (AND) Fund for production. Money and Honey received 10 international awards including Busan International Film Festival, AND Distribution Award and was selected by more than 50 film festivals. Money and Honey was distributed to approximately 200 countries worldwide through Taiwan Cultural Bureau.
This series of documentaries are the first Taiwanese films delve into the lives of migrant caregivers and elders in a nursing home. And have awaken the attention and support of the general public and the government offices concerning the issues of marginalized social groups and impacted the issuance of laws and regulations.